The EMR is mission-critical since every major activity in your clinic runs through it, so the procurement process needs to be done right. Learn some tactics to make this process less daunting.
The EMR is mission-critical for every clinic.  Every major activity in your clinic runs through it, and it is expensive and time-consuming to switch systems, so the procurement process needs to be done right. In this article, we'll discuss some of the key considerations that should help you choose your next EMR.
Define the requirements
Before beginning to evaluate different solutions, it's important to determine what the non-negotiable requirements are. For example, EMRs are usually subject to certification by your jurisdiction's regulatory body and must integrate with particular systems and data sources.
Determine what your practice needs based on how it operates. For example, telehealth and virtual communication have become vital for many practices through the pandemic, but it may not be a factor for others. Or perhaps you have specialists on staff that have particular needs? Identify which features are important for your practice now and in the future.  It can be painful and time-consuming to switch EMRs, so whichever one is chosen must suit the practice's needs as it evolves and grows.  
Requirements can also include technical and architectural fundamentals: would a cloud solution be appropriate, or do you want something on premise? Do providers use particular mobile devices?  Do you need it to work with other existing software, such as a billing system? 
When reviewing requirements, don't forget to think through not only what the software will do, but also the support that the company will provide, the training both now and for new staff as they join, and how the product will improve as the years go by. Do you need support only during standard office hours, or does your clinic run evenings and weekends, and thus require support out of hours as well? Do you mind support via email, or do you really like to talk to someone on the phone? Do you mind training with a group, or do you need some 1:1 time? These are considerations as well, as the offerings differ by company.
One caveat: sometimes, you're doing stuff today because of the solution you have in place already. So as you think about what you need, keep in mind your real requirements, not 'well, we need this because we've always done it this way.'
Set weights for each of your requirements
When defining requirements, it's important to weight them appropriately. Some requirements are critical, others fairly important while others may just be "nice to have."  A range of three is normally enough to distinguish the different requirements identified.  As you choose weights for the various requirements, be honest about which are truly necessary.  This will be particularly important if the budget is limited.  No EMR will do absolutely everything; by weighting the different requirements, you'll be able to focus your attention on the solutions that do what you really need. 
Score solutions on a scale
Different solutions may meet requirements in different ways and to varying degrees. It's important to score solutions on a scale to determine how well they meet each requirement.  If you want to be thorough, you can write definitions for what each score means for each requirement.  This will be especially useful if you have a range of people involved in the evaluation process, so that each person is scoring solutions consistently.  
To be consistent and fair in the evaluation process, it's important to define terms and scales and stick to them. If you do need to revise them based on new information – and this is likely as you look at different options, as new EMRs are bringing some very interesting features to the market – go back and reevaluate all solutions on the changed elements.
Once you have all the weights and scores for each solution, you can calculate an overall score.  As you review lots of solutions, having these scores documented and comments included will make it much easier to remember which solution was which; after a while they can all look rather similar and it can be challenging to remember the specifics.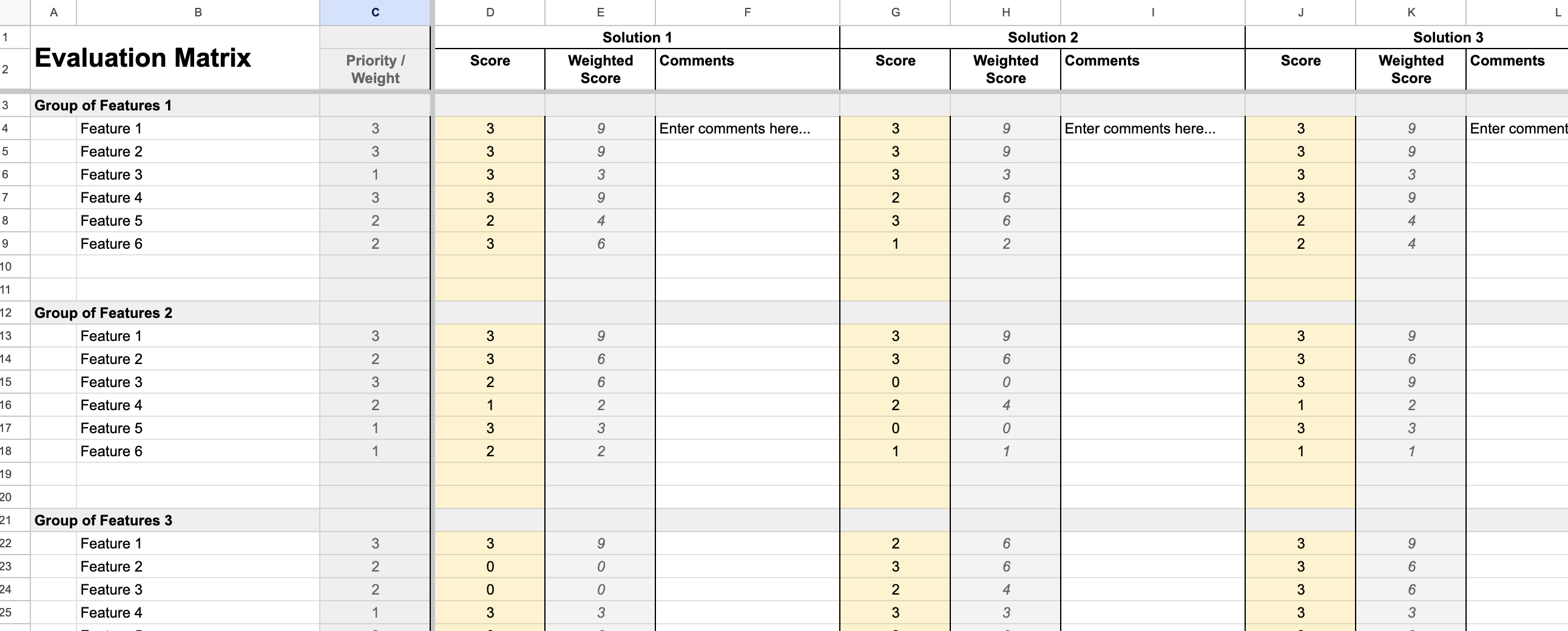 Try it out
Whenever possible, it's helpful to try out a new product and use it as you would in real life. This allows you to see if it fits your workflow and lets you do things in the order and place you want to do them in.  Do providers in the practice need to access patient records on the go?  Do patients get seen by more than one provider in the same visit?
For an EMR solution, it is tough to try it in practice.  What you can do though, is get a walk through and push hard to ensure that it fits the flow of the practice, not what the sales person wants to show.  This is hard work -- sales demos are designed to suit the software's design, not necessarily what providers want -- and will require focus and persistence. 
Ask around
Anybody who has used a particular solution will have an opinion about it; ask friends and colleagues who have used this software what they think of it. Do they like it? Do they find it easy to use? What did they learn from their implementation experience? What would they do differently now based on what they've learned since they started using it?
Keep in mind that their requirements will differ from yours, so do ask follow up questions and look into the details of their feedback.
Involve multiple stakeholders
For important systems such as an EMR, it's vital to involve multiple stakeholders in the decision-making process. Everyone in the practice will use the system, so it's crucial that the solution meets the needs of all stakeholders.
Know your budget
When determining your budget, consider not only what cash you have to spend but also the cost of not having certain features. Certain solutions may save you time or provide other savings in the long run.  For example, a solution that includes patient-facing questionnaires, or online appointment booking may save you on staff time and stress especially at peak times.  An integrated billing solution will not only save time on preparing submissions but it can reduce errors and help identify opportunities to generate more revenue. An AI medical scribe, like Tali AI, will save providers time and energy every month, reducing stress levels, burnout and staff turnover. 
Have a knowledgeable person review the agreement
A lawyer or someone with experience with software agreements reviews the agreements. This is a major investment of money, time and energy; make sure you know what you're signing and what it will mean for you as the months and years go by.  Will the offering change?  Will you get access to new features as they are released?  How much will your fees change over time?  What happens if there is a problem?  
It doesn't stop when you've made the decision
No matter how fantastic the software may be, if you do not implement it well the solution will only cause headaches. Invest in configuration, training and improvements as the clinic team becomes accustomed to the solution and its capabilities. 

It can be daunting to procure a software solution as important as an EMR. However, by following the above tips, healthcare organizations of all sizes can streamline their decision-making process and choose a solution that meets their unique needs and budget. By identifying their key requirements, testing out potential solutions, and involving all stakeholders in the decision-making process, healthcare organizations can ensure that their investment in technology yields the desired results and helps them provide better patient care.
Contact us if getting a copy of our sample evaluation matrix would be helpful.