Do you ever find yourself frustrated by the considerable time spent on documentation? Do you wish to redirect your focus from the computer back to your patients? Do you face challenges with typing, dictation, or using templates to create precise and comprehensive notes?
If you've answered 'yes' to any of these questions, you might be intrigued by ScribeAmerica Speke, an ambient AI scribe designed to alleviate the burden of computer work and allow providers to return to the bedside. This innovative tool employs speech recognition technology, powered by artificial intelligence and natural language processing, to capture and transcribe conversations with patients. It's worth noting that Speke is further enhanced by the expertise of ScribeAmerica's medical scribes, who meticulously review and edit the notes for accuracy and completeness.
In this blog post, we will delve into the mechanics of ScribeAmerica Speke, its benefits, and how you can seamlessly incorporate it into your practice. We will also share some tips and best practices for optimizing your use of this remarkable tool.
How ScribeAmerica Speke Functions?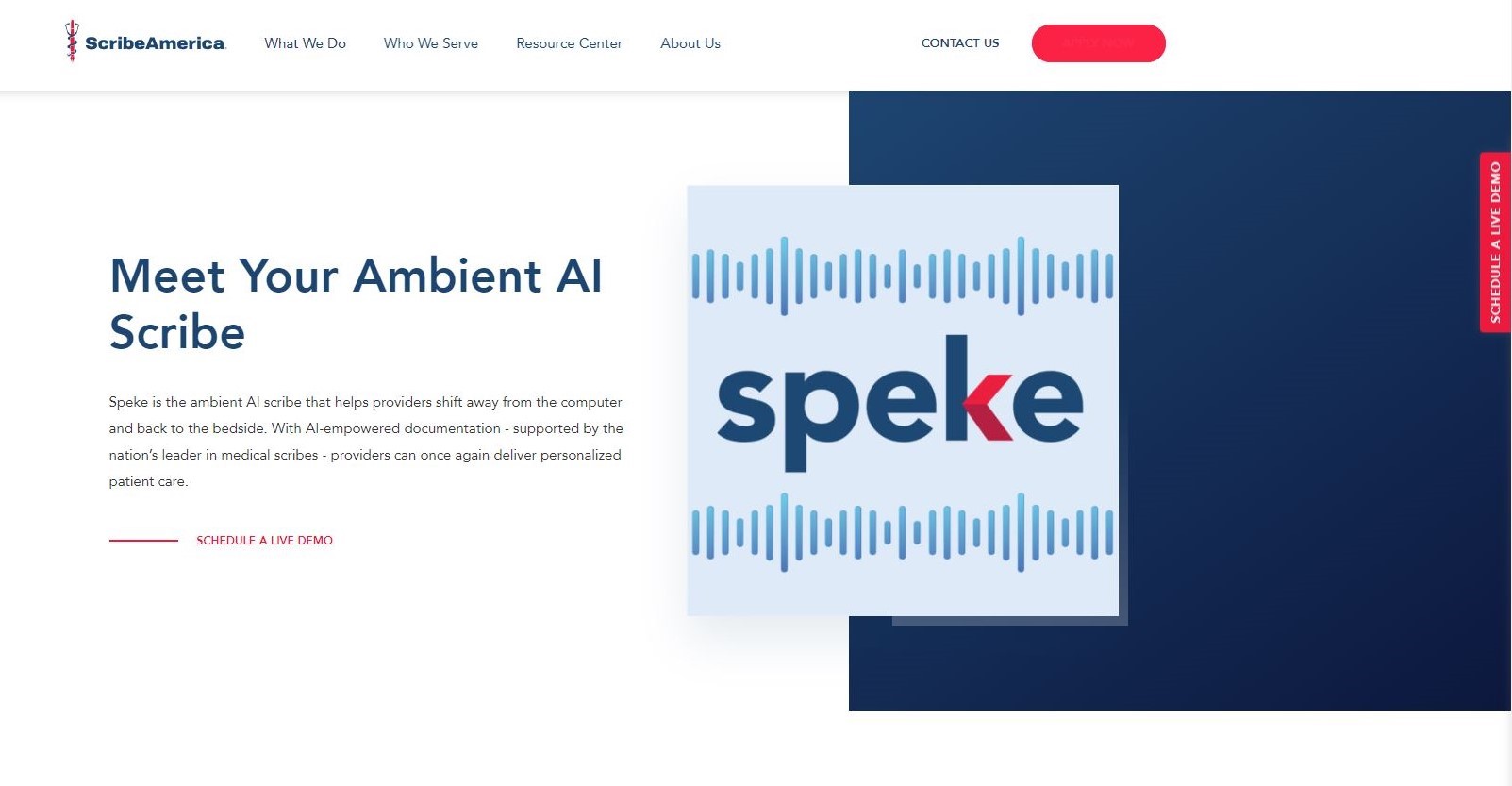 ScribeAmerica Speke is a cloud-based application accessible from your mobile device or computer. Activating Speke is as simple as tapping a button on the app or issuing a voice command. Once engaged, it listens to your conversations with patients, transcribing them in real-time. You can conveniently view the transcription on your device or a monitor in the examination room.
The sophistication of Speke lies in its advanced algorithms, which extract vital information from your conversations. This includes the chief complaint, history of present illness, review of systems, physical exam findings, assessment, plan, prescriptions, referrals, and educational content. Moreover, it demonstrates remarkable proficiency in recognizing medical terminology, abbreviations, acronyms, and specialized jargon. What's more, it can seamlessly integrate with your electronic health record (EHR) system, auto-populating relevant fields with captured information.
But ScribeAmerica Speke is far from being a passive tool. It actively engages with you and your patients by seeking clarifications, providing feedback, or suggesting actions. For instance, it can prompt you to confirm a diagnosis, remind you to document a procedure, or recommend ordering specific tests. 
It's essential to recognize that ScribeAmerica Speke complements human scribes rather than replacing them. ScribeAmerica's scribes undergo thorough training to review and enhance the notes generated by Speke, ensuring accuracy, comprehensiveness, compliance, and overall quality. They can also facilitate communication with you through chat or phone to address any questions or concerns.
After the scribes finalize the note, you have the opportunity to review and approve it. You can make any necessary changes or corrections before endorsing the note, which is then automatically integrated into your EHR system.
Benefits of Utilizing ScribeAmerica Speke
The integration of ScribeAmerica Speke into your workflow offers a multitude of advantages for both providers and patients. These include:
Time Savings: ScribeAmerica Speke has the potential to reduce documentation time by up to 50%, affording you the opportunity to see more patients, allocate more time per patient, or even enjoy personal time.

Enhanced Documentation: Speke enhances the quality and completeness of your documentation by capturing finer details and pertinent information from your conversations with patients. This, in turn, can elevate patient care, minimize errors, increase reimbursement, and facilitate audit processes.

Improved Patient Experience: ScribeAmerica Speke contributes to a better patient experience by allowing you to maintain eye contact and rapport while documenting. Patients can also observe the documentation process, offering opportunities for feedback and corrections. 

Mitigation of Burnout: ScribeAmerica Speke helps alleviate the stress and frustration associated with documentation, reducing burnout levels. Consequently, you can place greater emphasis on the clinical aspects of your practice, minimizing administrative burdens.

Ongoing Learning: ScribeAmerica Speke continually learns and evolves through interactions with providers and patients. It adapts to your preferences, style, and specialty. Additionally, it remains current with the latest medical knowledge, guidelines, and regulations.
Getting Started with ScribeAmerica Speke
Commencing your journey with ScribeAmerica Speke is straightforward and convenient, encompassing the following steps:
Contact ScribeAmerica: Reach out to ScribeAmerica through their website or by phone to request a demonstration or initiate service.

Account Setup: Upon contact, you will receive an email containing instructions on configuring your account and downloading the app onto your device.

Training with Speke: You'll gain access to training materials and videos that elucidate how to effectively utilize ScribeAmerica Speke in your practice. Moreover, a dedicated support team is available to address your queries and troubleshoot any issues.

Implementation: You can start integrating ScribeAmerica Speke into your practice once you're comfortable with it. You have the flexibility to use it for all or select patients based on your preferences.
Tips and Best Practices for Utilizing ScribeAmerica Speke
To maximize the benefits of ScribeAmerica Speke, consider these tips and best practices:
Introduction to Patients: Take a moment to introduce ScribeAmerica Speke to your patients, explaining its function and operation. Seek their consent and address any concerns they may have. Encourage them to participate in the documentation process and correct any errors they may spot.

Natural and Clear Speech: Speak naturally and clearly when communicating with your patients, just as you normally would. Avoid mumbling, whispering, or raising your voice. Employ complete sentences and eschew slang or colloquialisms. Additionally, you can use recognized keywords or phrases, such as "chief complaint," "history of present illness," or "plan."

Utilize Punctuation Commands: You can enhance your transcription with punctuation commands. For instance, you can verbally indicate "comma," "period," "question mark," or "new paragraph." Moreover, employ editing commands to effect changes or corrections in the transcription. Examples include "delete that," "go back," or "insert before."

Review and Approval: Always review the note generated by ScribeAmerica Speke prior to signing off on it. Ensure its accuracy, comprehensiveness, compliance, and alignment with your clinical judgment. You also have the liberty to incorporate any additional information or comments that you deem relevant.
Conclusion
In summary, ScribeAmerica Speke stands as an ambient AI scribe designed to help providers save time and elevate documentation quality through its innovative speech recognition technology. Supported by the expertise of ScribeAmerica's medical scribes, it offers a comprehensive solution for healthcare professionals seeking to streamline their workflows.
It's important to note that while ScribeAmerica Speke is a powerful option, there is another comparable solution in the market, namely Tali.
Tali is an AI ambient scribe and medical dictation service designed to reduce the time spent on documentation and administrative tasks for physicians. It employs AI to create structured SOAP notes based on patient conversations. Tali seamlessly integrates with web-based EHR systems and excels in capturing natural conversations without necessitating explicit voice commands.
Tali boasts significant time savings for providers, reducing feelings of burnout and fatigue, enhancing documentation quality, and elevating patient satisfaction. It also offers a voice virtual assistant and a medical search functionality to aid providers in various tasks.
If you're interested in exploring Tali firsthand, you can try it for free. Whether you opt for ScribeAmerica Speke or Tali, you'll undoubtedly experience the transformative effect of an ambient AI scribe on your documentation process.