A comparative analysis between Tali and Dragon, taking into account similarities and differences of these software.
Dragon (by Nuance Technologies, acquired by Microsoft) and Tali AI are two companies that focus on saving physicians' time by using Speech-to-Text technologies. Although they might appear similar on the surface, Tali AI and Dragon are two very different solutions to physician burnout.
History
Dragon was established over 10 years ago, serving not just the medical community, but anywhere where there was a requirement for voice-to-text translation. Being an early player in the market, Dragon could gain a big portion of the Medical Dictation market. Because at the time most of the machines in hospitals and healthcare organizations didn't have a microphone, they required organizations to purchase hardware to act as the microphone as well.
They built on classic stacks of Natural Language Processing algorithms and Speech-to-Text technologies to help physicians dictate their notes into the Electronic Medical Record (EMR). Physicians would have to use commands like "period", "new line", "comma", etc. to format their text.
Tali AI on the other hand is a Canadian solution that is more than a dictation tool. Tali is a voice-enabled virtual assistant for physicians and dictation is only one of the ways in which Tali helps physicians save time. But for the purpose of this comparison, we will only compare Tali's dictation feature to Dragon Medical One.
AI technology behind Tali and Dragon
Tali is based on more advanced Natural Language Processing models that are trained specifically on very large sets of medical terminologies. These models are therefore specialized in understanding medical terms.
Newer Speech-to-Text algorithms is trained on trillions of data points from people speaking with different accents. As a result, Tali's out-of-the-box performance is already much more accurate than what a classic NLP algorithm can deliver. In addition, Tali gets smarter with every new user interaction which makes it very personalized to each physician after only a few interactions.
Tali doesn't depend on a specific piece of hardware to perform. You can use Tali with any microphone that you have, including the default microphone on your machine. Physicians can activate Tali using a voice command, and start dictating into their EMR.
Tali and Dragon Installation and Sales Cycle
Another important difference between Tali and Dragon Medical One is the sales cycle and availability of physicians. Tali has multiple ways to integrate with the EMR, whether as an app on the app marketplaces such as WELL Health's apps.health, or including an SDK right into the EMR and making Tali available to all physicians with zero installation required. Tali is the first AI Scribe solution that integrates with Canadian EMRs such as OSCAR Pro, Collaborative Health Record (CHR), and Juno EMR among others.
Both Tali and Dragon are available as web-based solutions and desktop-based applications. In addition to those, Tali also has a mobile application that serves as the microphone for physicians that don't have access to any other microphone on their machine.
Summary
The following table summarizes all the points discussed above in the discussion above: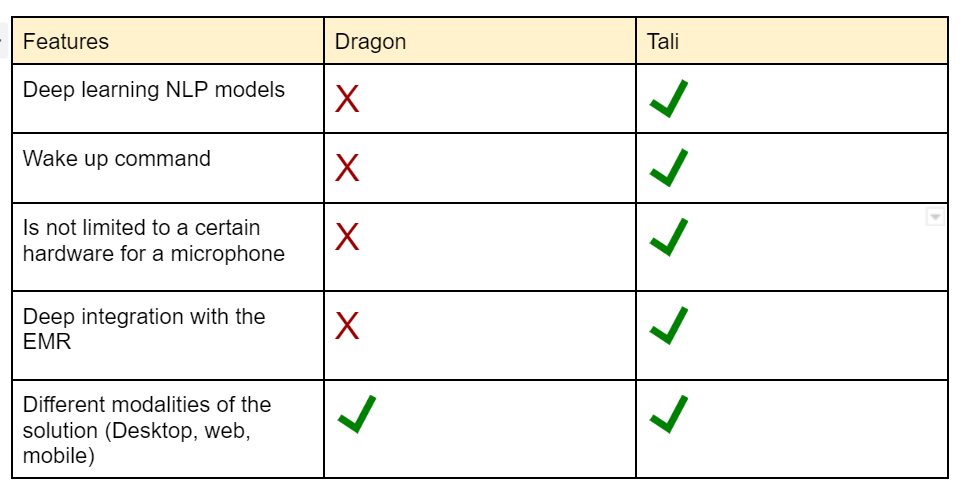 Learn more about how Tali AI can transform your EMR experience. Download Tali today or contact us directly for more information.