In today's fast-paced medical field, efficient and accurate documentation is crucial for healthcare professionals. Thankfully, technological advancements have paved the way for medical dictation apps that make the documentation process more mobile and flexible. These apps allow clinicians to save time by dictating important patient information directly into their mobile devices. This comprehensive guide will explore the best medical dictation apps available for iOS and Android, their features, and how they can streamline your documentation workflow.
Understanding Medical Dictation
In the fast-paced world of healthcare, picking the right Medical Dictation tool is a game-changer. It empowers healthcare professionals with the ability to capture precise patient information swiftly and accurately, ensuring seamless communication, streamlined workflows, and enhanced patient care.
What is Medical Dictation?
Medical dictation involves verbally recording essential aspects of a patient's visit or a clinical trial into a voice recording device. These recorded notes are then transcribed automatically using speech recognition technology or manually transcribed by a professional transcription team. Both methods offer a high degree of accuracy, but speech recognition can significantly reduce the time it takes to enter and review information.
The Need for Mobile Medical Dictation
Whether in the hospital, clinic, or remote settings, the ability to dictate and transcribe notes using a mobile device empowers healthcare professionals to provide quality care while staying agile and connected. By embracing Mobile Medical Dictation, healthcare professionals can optimize their productivity, reduce administrative burdens, and ultimately enhance patient outcomes.
Flexibility and Convenience
 Mobile medical dictation apps allow healthcare professionals to dictate notes anytime, anywhere. Whether away from your workstation or attending to multiple patients, these apps allow you to capture important information quickly and efficiently. With the ability to dictate directly into your mobile device, you can avoid the hassle of carrying additional equipment or relying solely on your memory to document patient encounters.
Working from Anywhere
 One of the key advantages of mobile medical dictation apps is the freedom to work from anywhere. Whether at the clinic, hospital or even on the go, you can seamlessly dictate and send your notes to your workstation or directly into your Electronic Health Record (EHR) system. This mobility improves documentation speed and enables healthcare professionals to complete their documentation tasks without being tied to a specific location.
Best Medical Dictation Apps for iOS and Android
When it comes to Medical Dictation, the availability of reliable and user-friendly apps on both iOS and Android platforms is critical. These top-notch apps offer intuitive interfaces, accurate transcriptions, and integration with electronic health records.
Fusion Narrate Keyboard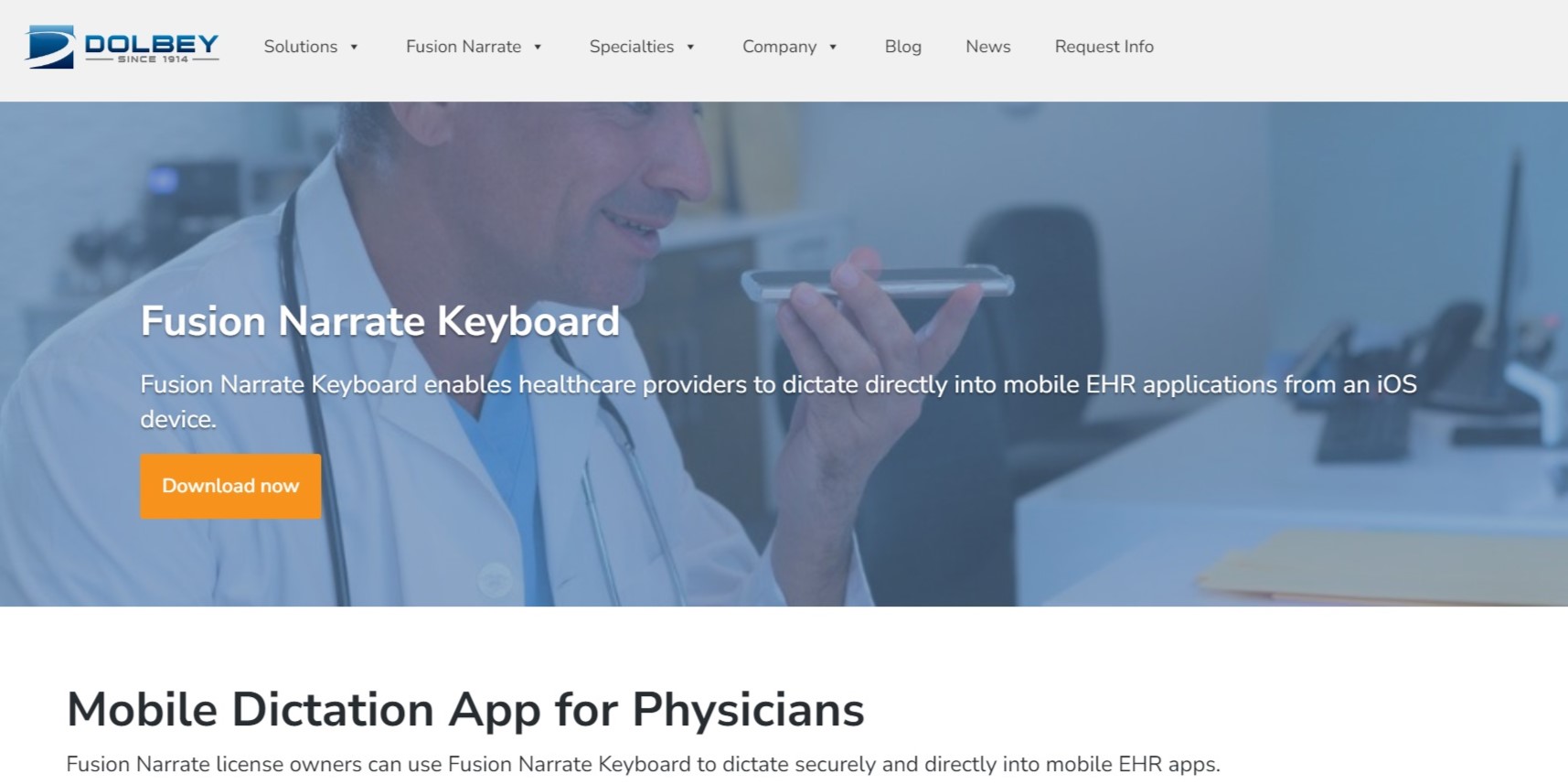 Fusion Narrate Keyboard is a powerful mobile dictation app developed by Dolbey and Company, Inc. It is specifically designed for healthcare professionals who use iOS devices. This app allows clinicians to dictate directly into various healthcare apps, including mobile EHR apps, from their iPhones and iPads. With Fusion Narrate Keyboard, users can securely work on their iOS devices, ensuring HIPAA compliance with features like secure data transmissions over WiFi or cellular networks. The app leverages Dolbey's cloud-based speech recognition platform in real time, ensuring accurate transcriptions. Fusion Narrate Keyboard also integrates with Fusion Narrate, allowing users to access saved substitutions from their Fusion Narrate speech profile.
Philips LFH7400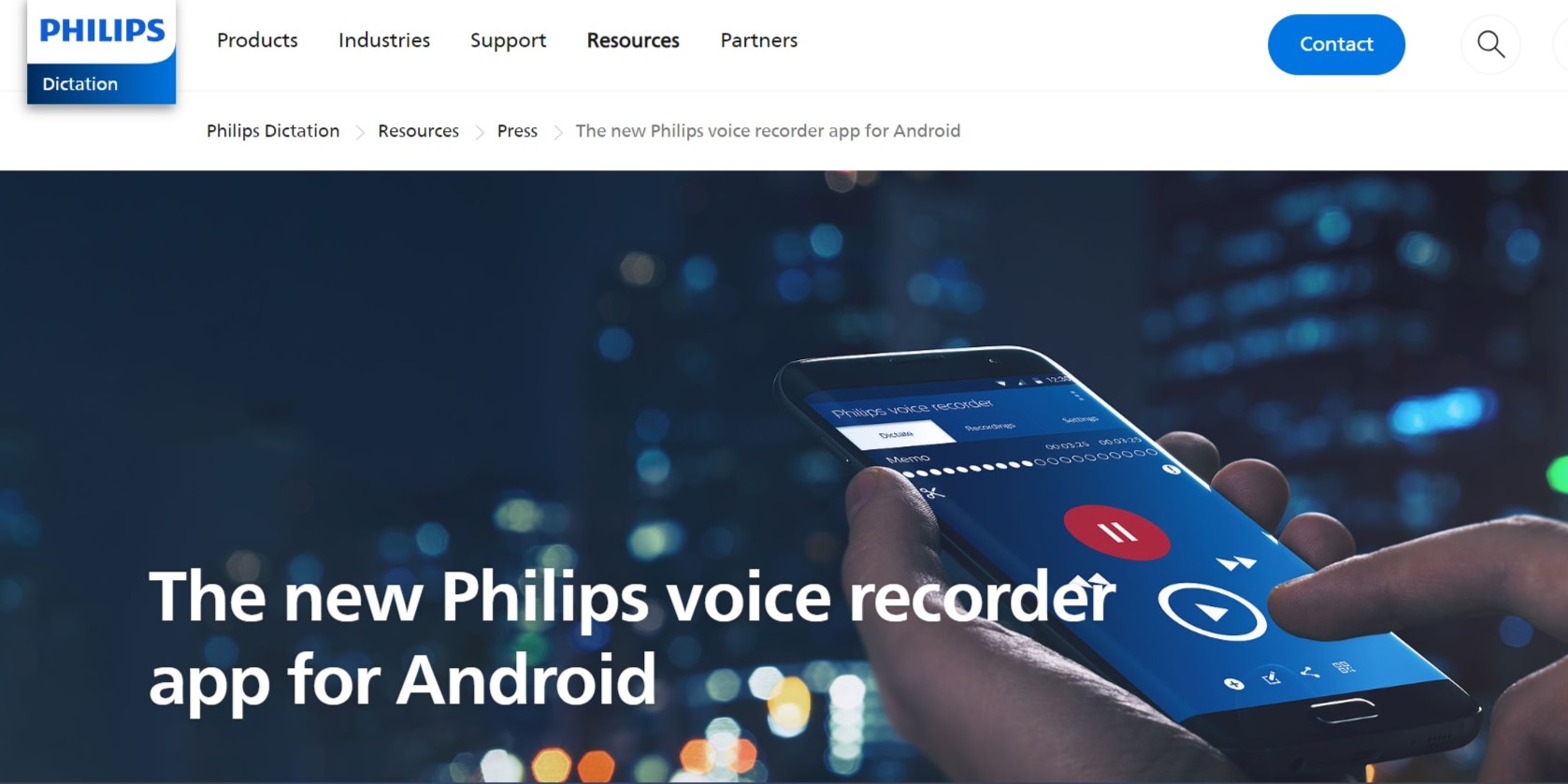 The Philips LFH7400 app is a free medical dictation app for healthcare professionals. It allows users to make dictations, encrypt audio files, and store them within the app. The app provides features like filtering by patient name or healthcare professional, allowing efficient workflow management. While LFH7400 does not offer speech recognition, users can send their dictations directly to a speech recognition or transcription service.
Olympus Dictation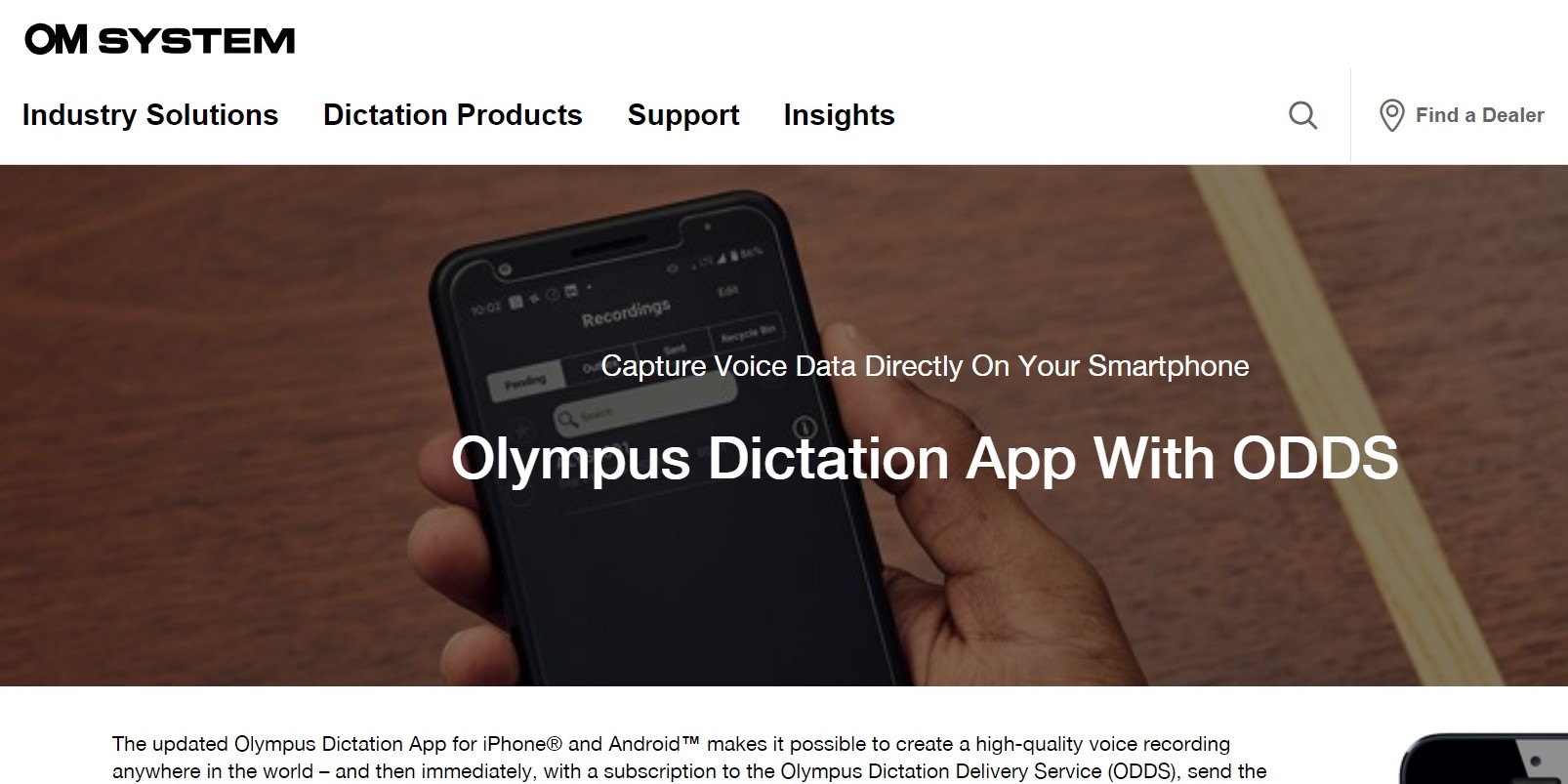 Olympus Dictation offers a range of smartphone app solutions for medical professionals. The Olympus Dictation app allows users to record voice memos, encrypt, and transfer the recordings. These recordings can be emailed to the user's Olympus Dictation Management System. The app is available for Android and iOS devices, and a trial license can be activated to access its full functionality.
nVoq Wireless Microphone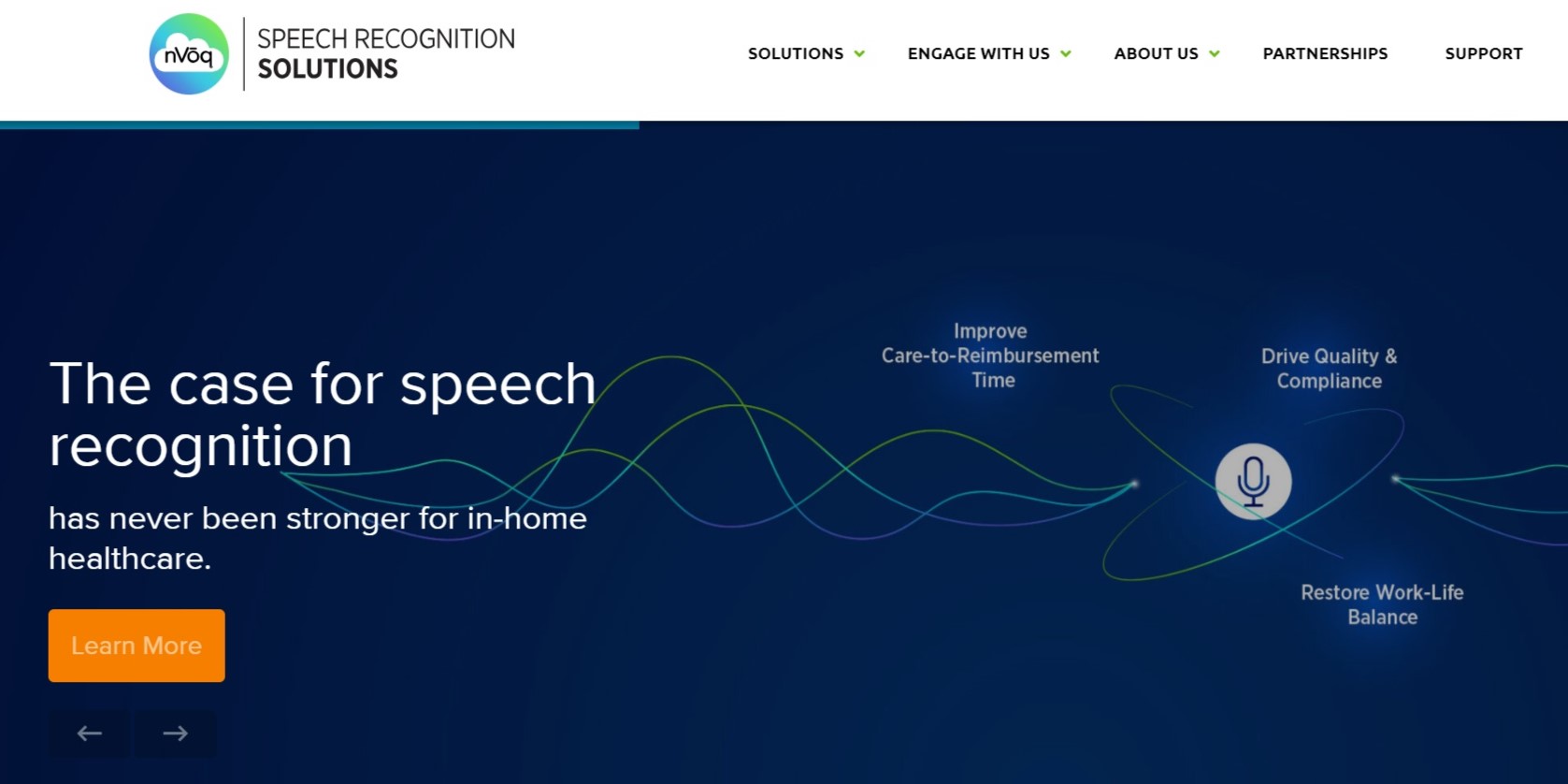 The nVoq Wireless Microphone app lets users record audio directly into their desktop computer from their mobile phones. This app is designed to make iPhone dictation possible, providing functionality similar to dedicated dictation microphones. The recorded audio is sent to nVoq's cloud speech server, recognized, and inserted into the selected text area on the user's paired desktop. The nVoq Wireless Microphone app is available for Android and iOS devices and can be used with Fusion Narrate or SayIt.
Free Medical Dictation Apps
 While several free speech recognition apps are available, it is essential to note that they may not be suitable for medical dictation purposes. Virtual assistants like Apple's Siri, Amazon's Alexa, Microsoft's Cortana, and Google Assistant offer voice-to-text capabilities but are not designed specifically for medical dictation. These assistants may struggle to accurately transcribe medical terminology, potentially leading to errors in documentation. Furthermore, using personal mobile assistants raises security concerns, as they may record and store dictations violating HIPAA requirements. Therefore, it is recommended to use dedicated medical dictation apps that prioritize security, accuracy, and compliance.
Choosing the Right Medical Dictation App
 When selecting a medical dictation app for your iOS or Android device, there are several factors to consider:
Considerations for iOS and Android Users
 Ensure that your chosen app is compatible with your device's operating system. Some apps may be available exclusively for iOS or Android, so checking the compatibility before deciding is essential.
Integration with EHR Systems
 If you use an EHR system, selecting a medical dictation app that seamlessly integrates with your preferred software is crucial. Look for apps directly integrating with popular EHR systems to streamline your documentation workflow.
Security and HIPAA Compliance
 Patient data security is of utmost importance in healthcare. Choose an app that adheres to HIPAA regulations and provides secure data transmission and storage. Look for features like encryption, secure data transfer over WiFi or cellular networks, and HIPAA-compliant data handling.
Medical Dictation Apps in Different Specialties
 Medical dictation apps and software are valuable across various specialties, including:
Ambulatory Clinics: Dictate patient notes, treatment plans, and follow-up instructions on the go.

Behavioral Health: Efficiently document therapy sessions, progress notes, and treatment plans.

Cardiology: Dictate comprehensive cardiology reports, including echocardiograms and stress tests.

Emergency Care: Quickly document patient encounters in fast-paced emergency departments or urgent care settings.

Home Health Care: Easily capture patient assessments, care plans, and visit notes during home visits.

Hospitals: Streamline documentation of inpatient care, including progress notes, consultations, and discharge summaries.

Pathology: Dictate detailed pathology reports, including specimen descriptions and diagnostic findings.

Radiology: Efficiently create radiology reports, including interpretations of X-rays, CT scans, and MRIs.

Veterinary: Streamline documentation in veterinary practices, capturing animal assessments, diagnoses, and treatment plans.
Conclusion
 Whether you choose Fusion Narrate Keyboard, Philips LFH7400, Olympus Dictation, or nVoq Wireless Microphone, selecting the right medical dictation app can significantly streamline your documentation process and improve patient care.
Are you looking to enhance your clinical documentation workflow and quality? Look no further than Tali – a solution that's worth your consideration!
Tali is an AI-powered medical dictation and ambient scribe tool designed to provide substantial assistance to healthcare professionals. 
With Tali, you'll experience firsthand the countless benefits it offers. Ready to dive in? Sign up today for our free trial and unlock access to Tali's full range of features and functionalities. Plus, you'll have the added advantage of our dedicated team's support every step of the way.
This post is published in good faith and for general information purpose only. Tali AI does not make any warranties about the completeness, reliability and accuracy of this information. Any action you take upon the information you find here is strictly at your own risk.
Tali AI is not receiving any compensation from these links or products mentioned, nor are we responsible for the content of any external websites linked to from this blog.